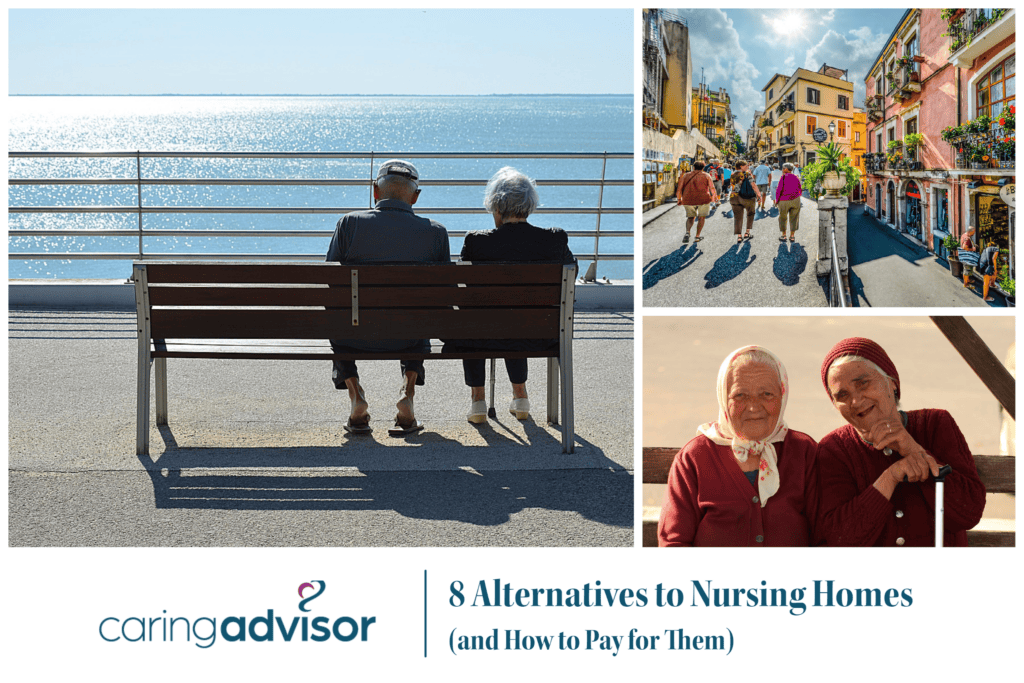 Many people think that nursing homes are the only types of senior housing available for their loved ones. But that simply isn't true!
Nursing homes, also called skilled nursing facilities (SNFs), are just one kind of senior living community. They're great for older people who require around-the-clock skilled nursing care services. However, they won't be the best fit for every senior.
There are plenty of alternatives to nursing homes—one of them could even be the perfect fit for your aging loved one.
9 Alternatives to Nursing Homes
There are plenty of housing options for older adults available. Which one is best depends on the senior in question. After all, some older adults can live independently and need little to no help with day-to-day activities. Others will need more extensive care; fortunately, they can receive this care in locations other than SNFs. In some cases, they can receive that care in the comfort of their own home!
1. Independent Living
Also called:
Retirement living communities
Senior apartments
Retirement communities
For social butterflies, independent living communities could be even better than living alone!
This type of senior housing is unique in that residents need little to no help with activities of daily living (ADLs). These activities are so named because they are activities people need to complete on a daily basis in order to live comfortably.
These activities include:
Ambulating: Walking independently from one spot to another
Dressing: Selecting appropriate clothing and putting them on
Feeding: The ability to feed oneself
Bathing: Maintaining personal hygiene (e.g. showering)
Toileting: Going to and from the toilet and cleaning oneself after use
Continence: Control of bladder and bowel function
These residences don't offer much help with ADLs, but they may offer other attractive services, such as laundering services, appliance maintenance, and lawn care. All in all, independent living communities are perfect for active seniors who want to live in a vibrant community with other active seniors.
2. Assisted Living
Also called:
Assisted living facilities
ALFs
Sometimes seniors require enough help that they will not be able to live in an independent living community. That said, a nursing home may not be the right fit for them. In these cases, an assisted living arrangement could be ideal.
Assisted living facilities, or ALFs, are designed for people who need some help with ADLs but still do not require the level of care that SNFs offer. ALFs are therefore ideal for people who only need some medical attention and slight assistance with day-to-day activities, like meal preparation or laundering.
3. Memory Care
Also called:
Memory care facilities
Dementia care
Alzheimer's care
Memory care can refer to either a special unit inside an ALF or SNF, or it can refer to an entire facility dedicated to treating and housing people with memory loss or other memory problems.
Memory care, as the name suggests, is for people with severe memory issues who need 24/7 monitoring. The goal of these facilities is to make life easier and safer for their residents. Staff members are trained specifically to care for individuals with memory loss, so residents will be treated with respect and receive top-notch care at these locations.
4. Home Health Care
Also called:
In-home care
Homecare
Social care
Domiciliary care
The name says it all: home health care is for older people who need the aid of caregivers but want their services delivered within the comfort of their own home. Many different kinds of licensed professionals—such as geriatric care managers, social workers, and registered nurses—can deliver in-home services to address their clients' personal care needs.
Home health care services can include, but are not limited to, the following:
Meal preparation
Laundering
Medication management
Help with household chores
Financial assistance, such as help paying bills
5. Adult Foster Care
Also called:
Adult family homes
Adult family care
Elderly foster care
Adult foster care programs are for any adult who needs personal care services, provided within the comfort of the adult's own home. Enrollees of these programs typically receive in-home help with activities of daily living.
6. Adult Day Care Services
Also called:
Adult day health care
ADHC
Adult day care services are not to be confused with adult foster care services, although there is some overlap between the two medical care options. Adult day care services, as the name implies, are day care services where adults, not children, are the enrollees.
These programs are great for family members-turned-caregivers who cannot watch over their aging relatives 24/7. For example, an adult child caregiver might enroll their elderly parent in an adult day care program so they can have peace of mind that their parent is well-cared for while they are at work.
People interested in finding an adult day care center can use the official government Eldercare Locator to discover locations in their area.
7. Respite Care
Also called:
Residential respite care
Short-term assisted living
Caregiving can be exhausting. It can drain not just physically and mentally, but also cut into personal resources like time and money. This exhaustion has serious consequences for caregivers.
According to the CDC, unpaid caregiving is associated with higher risks of many conditions, including the following:
Mental health problems
Compromised immunity
Early death
While it's obviously important to care for elderly loved ones, caregivers need to take their needs into consideration as well. That's where respite care comes into the picture. Respite care provides caregivers the opportunity to take a step back, rest, and recover. Respite care can come in many forms, including:
In-home care services
Adult day centers
Short-term stays in residential facilities
8. Continuing Care Retirement Communities
Also called:
Life plan communities
CCRCs
The level of care people need can change as they age. Rather than shuffling about from facility to facility as these needs change, wouldn't it be nice to stay in one community that adjusts the level of care it provides to its residents? This concept guides continuing care retirement communities (CCRCs).
CCRCs offer various personal care and senior living options, such as independent living, assisted living, and memory care programs. Since CCRCs offer all these services in one community, residents will not need to move to a new location when their needs change.
9. Convalescent Homes
Also called:
Inpatient rehabilitation facility
IRF
Acute care facility
The term "convalescent" refers to a recovering person. Convalescent facilities offer short-term rehabilitation services for people recovering from illnesses, injuries, and surgeries. The goal of convalescent care is to help patients recover properly. This way, they can leave the facilities and be fully independent.
Pricing
According to Genworth's 2020 "Cost of Care Survey," the average monthly fees for senior care services in the United States are:
Adult day health care – $1,603
In-home homemaker services – $4,481
In-home health aide – $4,576
Assisted living – $4,300
Nursing home facility, semi-private room – $7,756
Nursing home facility, private room – $8,821
Additional fees associated with senior housing include:
Independent living – $2,750/month
CCRCs – entrance fee + $500/month to $3,000/month
Financial Assistance Programs
There is no sugarcoating the fact that senior care is expensive. There are fortunately plenty of ways to ease the financial burden associated with eldercare services, including the following.
Long-term Care Insurance
15% of the adult population (roughly 44 million people) in the United States are enrolled in the Medicare program, making it one of the single-largest federal public health programs in the country. Basic Medicare, unfortunately, does not cover long-term care costs. Doubly unfortunate is the fact that someone's chance of needing long-term care increases to 50% by the time they turn 65. What this all means is that millions of Americans will require long-term care at some point in their life, and that one of the largest health programs in the country will likely not offer them financial assistance for these services.
And that's a big deal.
According to Genworth's 2020 "Cost of Care Survey," the average annual cost of a semi-private room in a nursing home in the United States is $93,075. Since most people can't pay these out-of-pocket costs, investing in a long-term care plan is one of the most reliable ways to financially prepare for the future.
Medicare
Medicare is a government-sponsored healthcare program for senior citizens. Enrollment is optional, and participants have the ability to add different plans or "parts."
Original Medicare (Medicare Parts A and B) will pay for short-term stays in SNFs only. Specifically, Medicare will cover costs associated with stays less than 100 days in SNFs. The program will pay for the full amount for the first 20 days. For the next 80 days, Medicare will pay for 80% of the costs. All costs after 100 days are the responsibility of the individual.
Medicaid
Medicaid is a federal and state health insurance program for low-income, disabled people in the United States. What this program covers depends on several factors, such as the individual's income and where they live.
Waivers
In some states, Medicaid offers waivers to extend coverage in situations where the individual would otherwise bear the brunt of a healthcare bill. For example, Texas offers a STAR + PLUS waiver for citizens to apply for financial assistance with assisted living facilities and services, which otherwise are not covered by Medicaid in the Lone Star State.
People should visit their state's official Medicaid site to learn more about what financial assistance waivers are available to them.
Program of All-inclusive Care for the Elderly
PACE is the Program of All-inclusive Care for Elderly. It is a Medicare program/Medicaid service. It helps seniors access services they may need in most locations, including within their own homes.
Who is Eligible?
According to the official Medicaid website, people are eligible for PACE if they meet the following requirements:
"Age 55 or older
Live in the service area of a PACE organization
Eligible for nursing home care
Be able to live safely in the community"
What States Offer PACE Programs?
As of July 2020, the following 32 states offered some form of PACE services:
Alabama
Arkansas
California
Colorado
Delaware
Florida
Indiana
Iowa
Kansas
Louisiana
Maryland
Massachusetts
Michigan
Missouri
Nebraska
New Jersey
New Mexico
New York
North Carolina
North Dakota
Ohio
Oklahoma
Oregon
Pennsylvania
Rhode Island
South Carolina
Tennessee
Texas
Virginia
Washington
Wisconsin
Wyoming
Final Thoughts
There may come a time when an elderly loved one needs help with their daily activities. This fact doesn't mean they have to enter a nursing home, though. There are plenty of eldercare services and programs available that can fit the needs of a wide range of seniors, from independent living communities to in-home care services.
If you believe your loved one would thrive best in a community setting, we can help. Our directory can show you thousands of senior living locations all across the United States. That means your loved one can live life to the fullest at a place near you.