Retirement is a new chapter in life, perfect for embarking on a new adventure, spending more free time with the grandkids, and enjoying the fruits of your previous years of hard work. Why not start off this new beginning in your life with some retirement sayings to help you get in the mood for years and years of doing whatever you want, whenever you want?
We here at Caring Advisor have rounded up the best retirement quotes for you to enjoy below. We wish you all the best during your upcoming retirement!
31 Inspirational Retirement Quotes
Get inspired with the following quotes that can help you approach the upcoming years with a positive outlook.
1. "It's not how old you are. It's how you are old." Jules Renard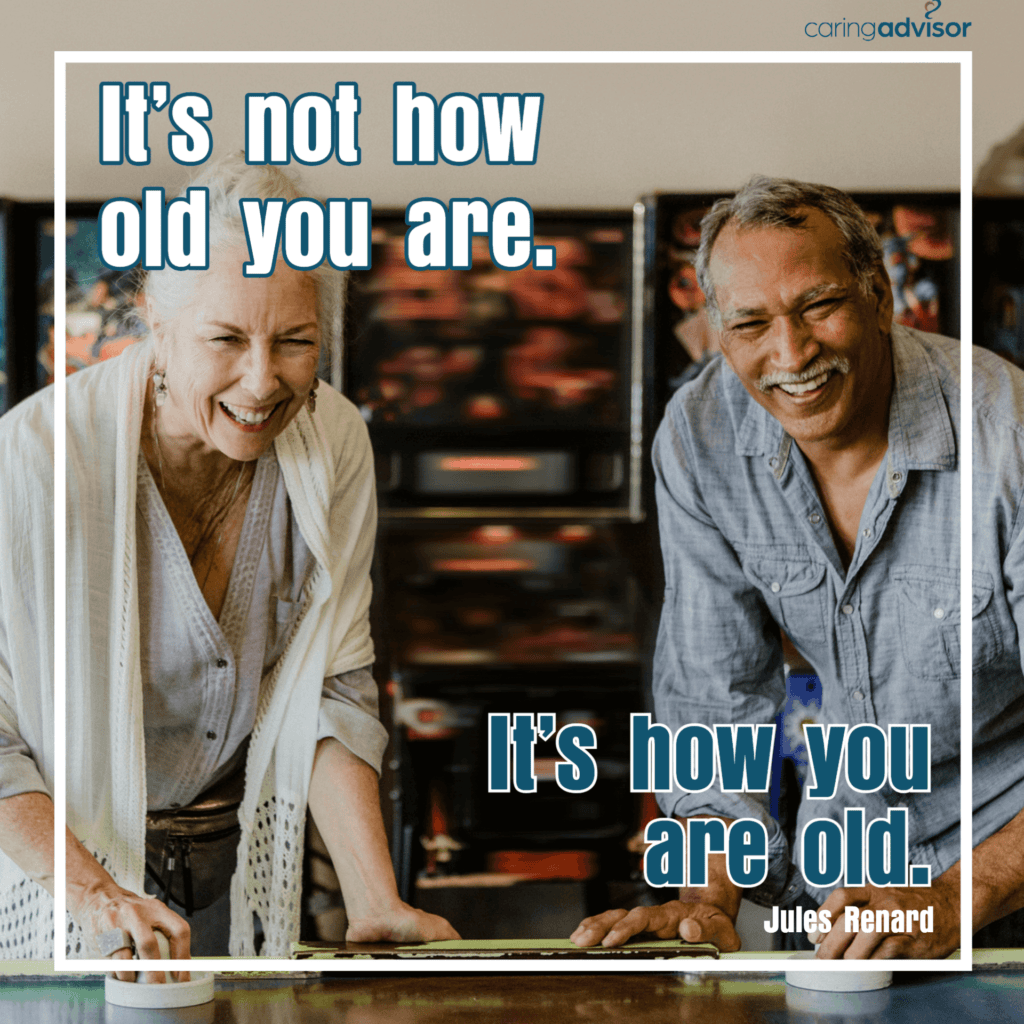 2. "The longer I live, the more beautiful life becomes." Frank Lloyd Wright
3. "Aging is an extraordinary process whereby you become the person you always should have been." David Bowie
4. "Aging is just another word for living." Cindy Joseph
5. "Aging is not lost youth but a new stage of opportunity and strength." Betty Friedan
6. "The biggest lie about getting older is that excitement and growth end with youth." MØ
7. "Know that you are the perfect age. Each year is special and precious, for you shall only live it once. Be comfortable with growing older." Louise Hay
8. "Every year should teach you something valuable; whether you get the lesson is up to you." Oprah Winfrey
9. "For the unlearned, old age is winter; for the learned, it is the season of the harvest." Hasidic saying
10. "Forget about aging gracefully; focus instead on aging gratefully." Unknown
11. "There's no such thing as aging, but maturing and knowledge. It's beautiful, I call that beauty." Celine Dion
12. "Optimism is a cure for many things." Michael J. Fox
13. "Getting older makes you more alive. More vitality, more interest, more intelligence, more grace, more expansion." Jamie Lee Curtis
14. "Age is simply the number of years the world has been enjoying you!" Unknown
15. "As soon as you feel too old to do something — DO IT and prove yourself wrong." Unknown
16. "Don't simply retire from something; have something to retire to." Harry Emerson Fosdick
17. "Often when you think you're at the end of something, you're at the beginning of something else." Fred Rogers
18. "You look ridiculous if you dance. You look ridiculous if you don't dance. So you might as well dance." Gertrude Stein
19. "You are never too old to set a new goal or dream a new dream." C.S. Lewis
20. "Retirement is not the end of the road. It is the beginning of the open highway." Unknown
21. "For many, retirement is a time for personal growth, which becomes the path to greater freedom." Robert Delamontague
22. "Retire from your job, but never retire your mind." Unknown
23. "Retirement is a blank sheet of paper. It is a chance to redesign your life into something new and different." Patrick Foley
24. "Retire from work, but not from life." M.K. Soni
25. "I see retirement as just another of these reinventions, another chance to do new things and be a new version of myself." Walt Mossberg
26. "Age is an issue of mind over matter. If you don't mind, it doesn't matter." Unknown (but often attributed to Mark Twain)
27. "Planning to retire? Before you do, find your hidden passion. Do the thing that you have always wanted to do." Catherine Pulsifer
28. "There is a whole new kind of life ahead, full of experiences just waiting to happen. Some call it 'retirement.' I call it bliss." Betty Sullivan
29. "To me, retirement means doing what you have fun doing." Dick Van Dyke
30. "We have two lives, and the second begins when we realize we only have one." – Confucius.
31. "Your someday is here. Enjoy!" Unknown
13 Funny Retirement Quotes
Make sure to include some laughs in your retirement plan! Get started with some of the fun quotes below.
1. "Growing old is mandatory, but growing up is optional!" Walt Disney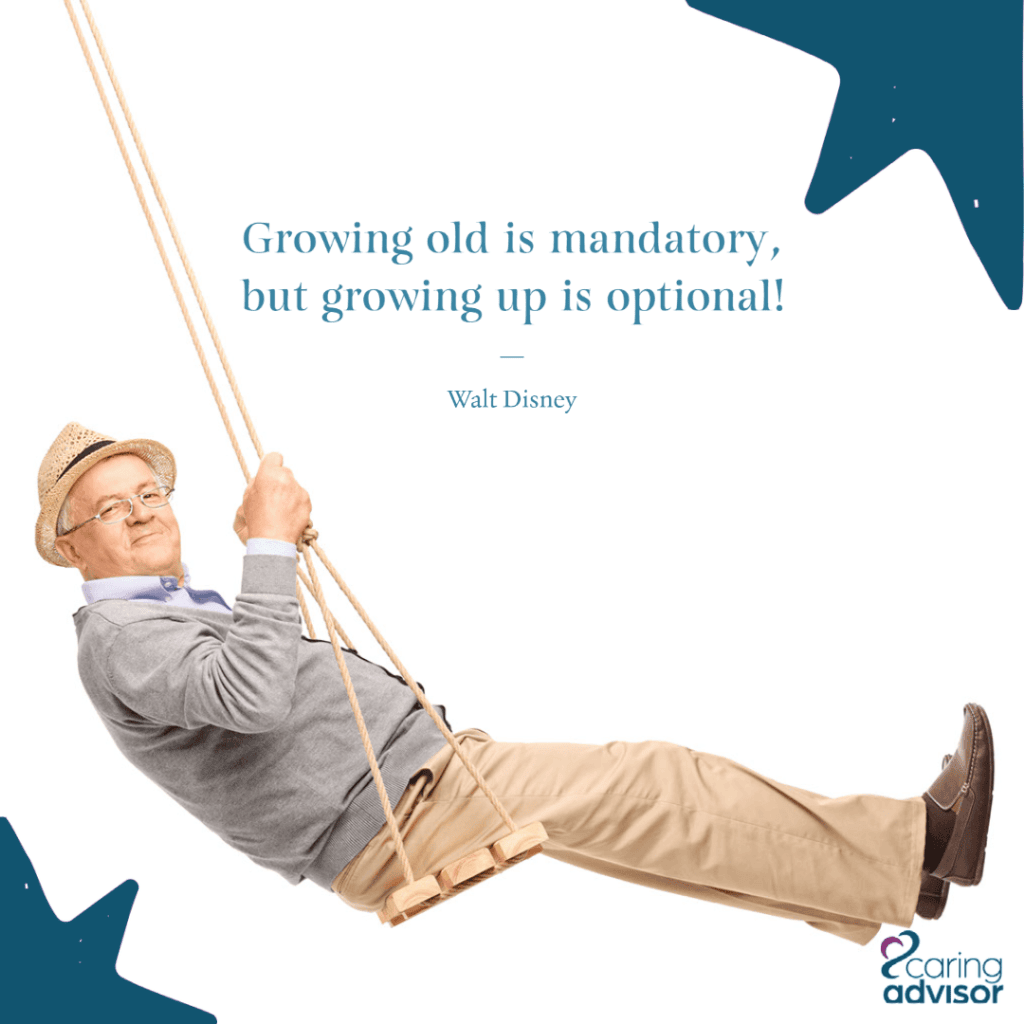 2. "I'm not just retiring from the company, I'm also retiring from my stress, my commute, my alarm clock, and my iron." Hartman Jule
3. "Getting old is like climbing a mountain; you get a little out of breath, but the view is much better!" Ingrid Bergman
4. "The great thing about getting older is that you don't lose all the other ages you've been." Madeleine L'Engle
5. "I'm not retired – golfing is a full-time job!" Unknown
6. "A lot of friends complain about their retirement. We tell 'em to get a life." Vince Lombardi
7. "You have to put off being young until you can retire." Unknown
8. "Working people have a lot of bad habits, but the worst of these is work." Clarence Darrow
9. "The trouble with retirement is that you never get a day off." Abe Lemons
10. "Goodbye tension, hello pension!" Unknown
11. "Retirement: That's when you return from work one day and say, 'Hi, Honey, I'm home—forever.'" Gene Perret
12. "Don't act your age in retirement. Act like the inner young person you have always been." J. A. West
13. "Retirement is the world's longest coffee break. Enjoy your coffee!" Unknown
6 Retirement Wishes
These retirement sayings are perfect to add into a retirement card for a new or soon-to-be retiree, like a family member, friend, or coworker.
1. "Retirement is the reward you get for putting up with coworkers like me for many years. I wish you the best!" Unknown
2. "This is your chance to enjoy life after work! Best wishes for a wonderful and long retirement." Unknown
3. "Three cheers—and lots of wise words—in honor of the very last day of work ever!" Unknown
4. "Having a wonderful person like you as my coworker has been a gift. I wish you a very happy retirement." Unknown
5. "You've been promoted to the retirement stage of your life! Congrats!" Unknown
6. "Congrats on retiring—now you can do all the things you never had time for! Enjoy it!" Unknown